USANA's Income-Producing Business Plan is
Revolutionizing how People Create Wealth
The USANA Binary Compensation Plan is a binary system in which you build balanced left-side and right-side downline organiza-tions for the purpose of selling USANA's nutritional and personal care products. The weekly commissions you earn are based on the balanced Group Sales Volume (GSV) points accumulated in your left-side and right-side downline organizations.
USANA Business Centers are designed to pay you weekly commissions on Sales Volume with no limit to the number of levels from which you can earn your commissions. In addition, a USANA Business Center allows you to be paid on the Sales Volume created by your downline Associates and Preferred Customers.
Another powerful advantage of USANA's program is that there are no monthly group volume requirements.
The income you receive from USANA will be in direct proportion to your ability to retail USANA's products to your customers, as well as your ability to build an organization of Associates who, like you, retail to their customers and build an organization of Associates.*
Starting a Business Center
Your sponsor places you in an open position in his or her sales organization (Figure 1). This open position is called a Business Center (BC). Each Business Center has left and right sides in which Sales Volume accumulates. You acti-vate and earn commissions on 1 or 3 Business Centers by following a few simple steps: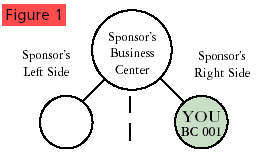 A. Complete an Associate Application form and purchase a Business Development System. If you fill out and sign an appli-cation manually you can have a 21-day temporary status by calling USANA Distributor Services or enrolling online while you wait for USANA to receive the written copy.

B. Order USANA products that total 150 points, or 450 points with 3 Business Centers, in Personal Sales Volume (PSV). These products may be for personal use and for retail sale, and may be ordered in a single order or accumulated over time.

C. Order USANA product worth 100 or 200 Personal Sales Volume (PSV) points for 3 Business Centers for personal use and resale every four weeks.